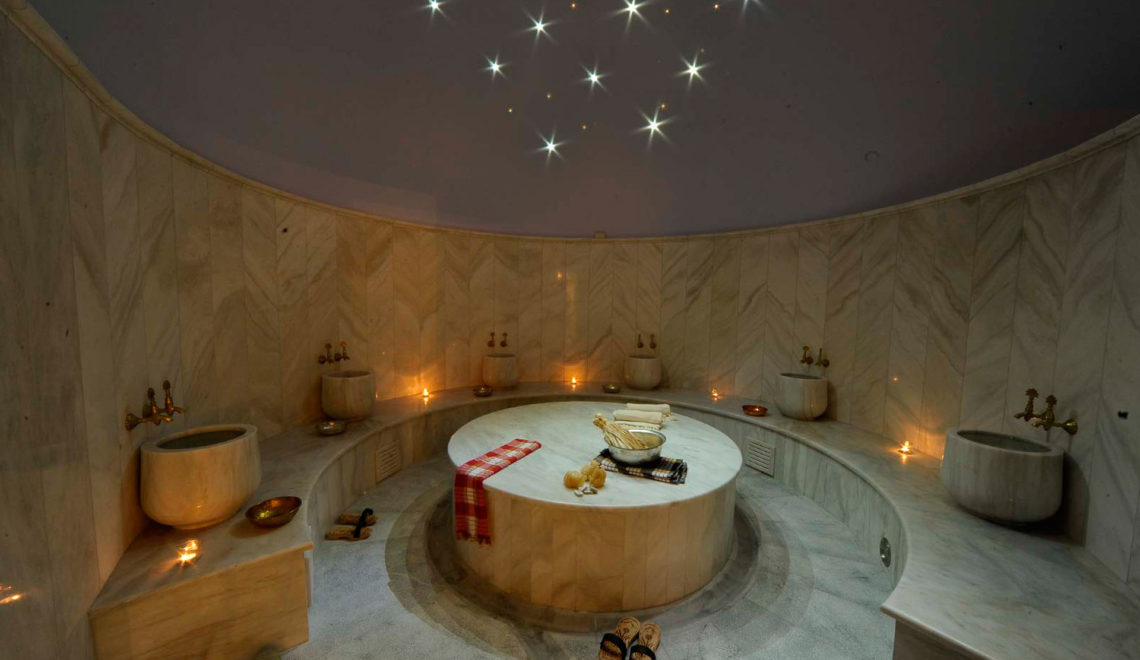 Two weeks ago, I attended TBEX in Athens, Greece
On Thursday, I read my TBEX (Travel Blogging Conference) guide on the plane. "Go to the Athens info booth in the airport," it said, like the first clue in a scavenger hunt. But everything was laid out for me when I arrived: maps, transit tickets, guidebooks, everything. The convention center was on the way to my hostel, and I dragged my suitcase down the slick marble steps and through the glass doors to claim my badge. The party started that night, and continued full-force until Sunday. I'd be leaving the city on Tuesday morning.
I had two days and two goals: shop for vintage clothes and go to a hammam
On Sunday, I spent the day visiting "the sites" and recovering from the weekend. But Monday was a day to look forward to. I knew very little about Athens, but with its proximity to the Middle East and its millennia of history, it struck me that this would be a good place to find a hammam.
First, let me explain. In 2008 I studied abroad in Paris. That trip was eye-opening for many reasons, but I am most grateful to my friend Maria, who had heard good things about the hammam at the historic Parisian mosque and invited me to come along with her to check it out. The hammam there was large, consisting of several chambers, each one smaller and hotter than the last. The architecture consisted of beautiful arches and detailed patterns on the wall, and light streamed in from overhead. But more than anything, what drew me in was the sense of non-judgement. The Paris hammam was women-only (sorry fellas), and everyone walked around bare-chested, unperturbed by blemishes or by their weight.
So what is a hammam?
Traditionally, a hammam, or Turkish bath, is a public bathhouse, not unlike the ancient bath houses of Rome. Generally, wash basins are provided as well as a pail to rinse yourself with. The term is used today to describe a variety of places. For instance, the Turkish bath in Edinburgh is a series of rooms that gradually increase in temperature. It includes a steam room, a cool dipping pool, and showers. Most modern hammams require you to wear a swimsuit, or at least the bottom half of one. It's also common to be served mint tea before or after your bath.
Hammam in Athens
My new friend Erica, who works for Nomadic Matt, and I waltzed into the hammam without knowing what to expect. The atmosphere was calming, with cool, somber colors on the walls. A pleasant, sweet scent permeated the reception area and shelves were lined with pastel-colored soaps, woven towels, and other products. The woman behind the desk greeted us with a friendly smile even though we didn't have reservations.
For one visit to the hammam (1-2 hours + tea) without any additional treatments, we paid €25,00. Considering the cost of most spas, this is pretty good, and definitely worth foregoing a few beers or a restaurant meal to make up for it.
Our hostess walked us through the procedures. We were given a pair of takunya–traditional wooden shoes–and pestemals–woven towels–to wear over our bathing suits outside of the bath. She showed us where we could find a pitcher of water and seating if we needed to "take a rest" from the bath (it gets very hot in there). Then she led us past the tea room and up the stairs to the changing rooms, each one outfitted with a bench and several lockers, separated from the hall by a polished wooden door.
After we'd changed and set our things in the lockers (lock & key provided), we were led through the heavy wood-paneled door and into the bath.
Inside the bath
Steam wafted outwards as we stepped over the threshold, enveloping us in warmth–the hammam is kept between 40-45 degrees Celsius. Stars sparkled overhead–stars. So far, there were only two or three other people there, so Erica and I each got our own wash basin. We were each given two metallic pails–one empty and one filled with some kind of soap that looked like shredded cheese. A natural sponge floated among the pieces of soap. We were shown how to work the faucets and how we should dip the pail into the basin to pour water over ourselves. Then we were left to our own devices.
The room echoed with the sounds of running water and quiet talking. An open doorway led into another room, this one used for special treatments and massages. The whole place was permeated with a sense of calm and healing. As we washed ourselves, a few other people were introduced to the mix. A group of women visiting from London arrived, and we started a friendly conversation. Erica recognized fellow blogger Sarah, of Sarah Good Travels, who was seated at an adjacent basin.
A feeling of harmony
Maybe it was the atmosphere or the close quarters, but I felt in harmony with the other people sharing the hammam. At one point, I stepped out to get a drink of water and took a short rest on one of the benches. I was staring into space with a big dopey smile on my face when one of the masseuses appeared. I must have looked a little out of it because without saying a word, he put two fingers up to my neck to take my pulse. Then he told me to rest outside the hammam for a little longer before returning. Good to see that the staff are attuned to how their guests are feeling.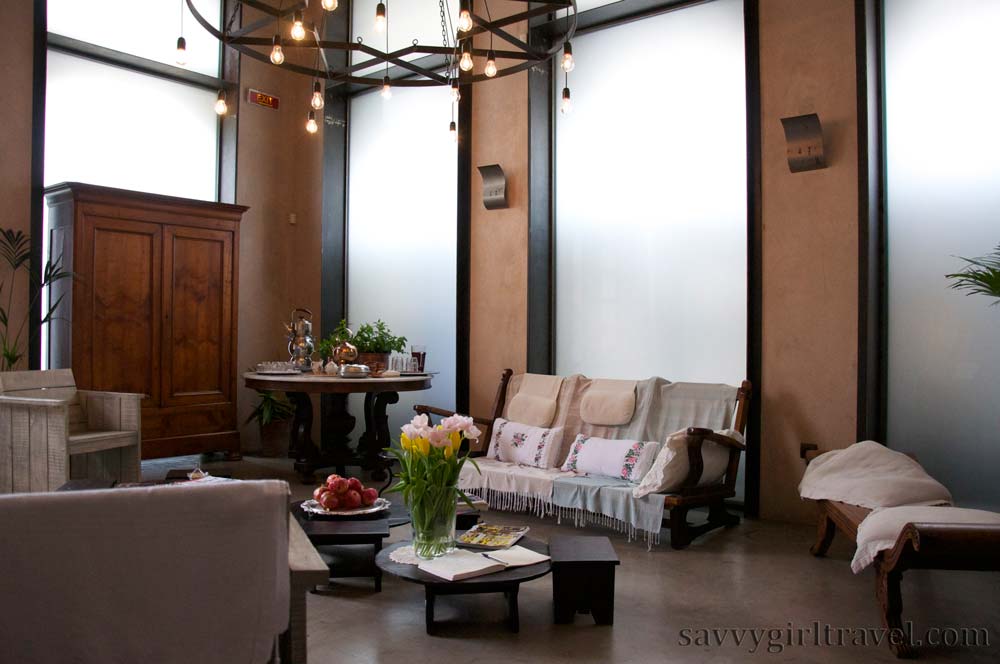 Tea time
Reluctantly, Erica and I decided it was time to go. As we stepped out of the hammam, wooden sandals clacking on the floors, the staff wrapped us in blue linen towels and directed us to the tea room. Here, they offered us two types of tea–hibiscus or mint–as well as some chewy sweets covered in a fine powdered sugar. The other guests were already spread out on the couches and chairs, chatting. We took our tea and lingered a while after everyone else had left.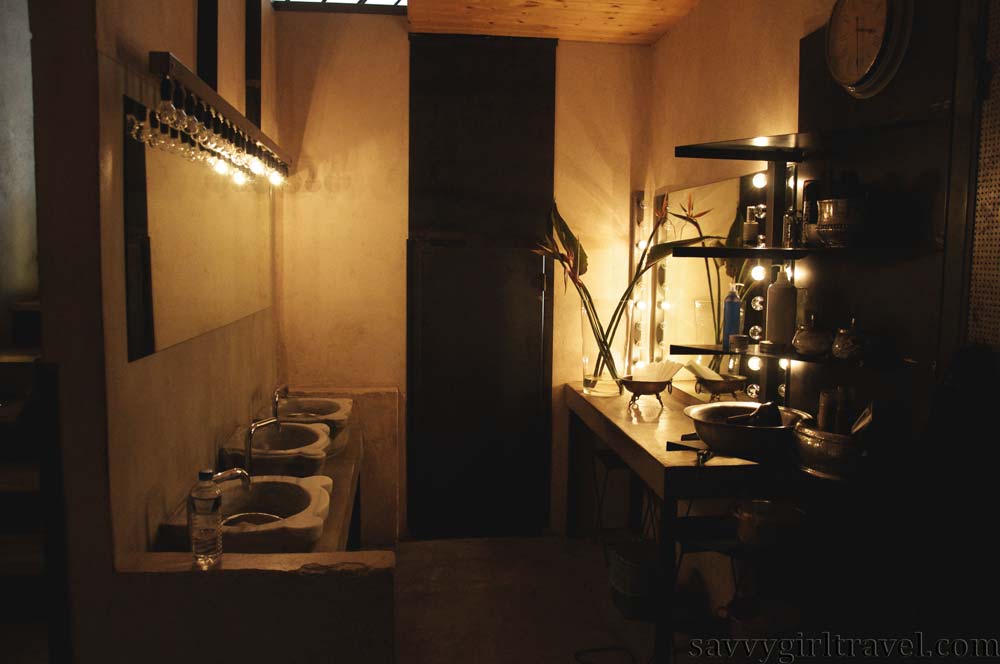 All good things come to an end
In the changing rooms, we toweled off and put our day clothes back on. We wandered downstairs to the prep area, where a powerful hairdryer, special lotions, and sinks were provided for our use. We ended the afternoon feeling pampered, relaxed, and in harmony with the world. Just in time to do some vintage shopping!
Read more about the Athens Hammam on their website or Facebook page.