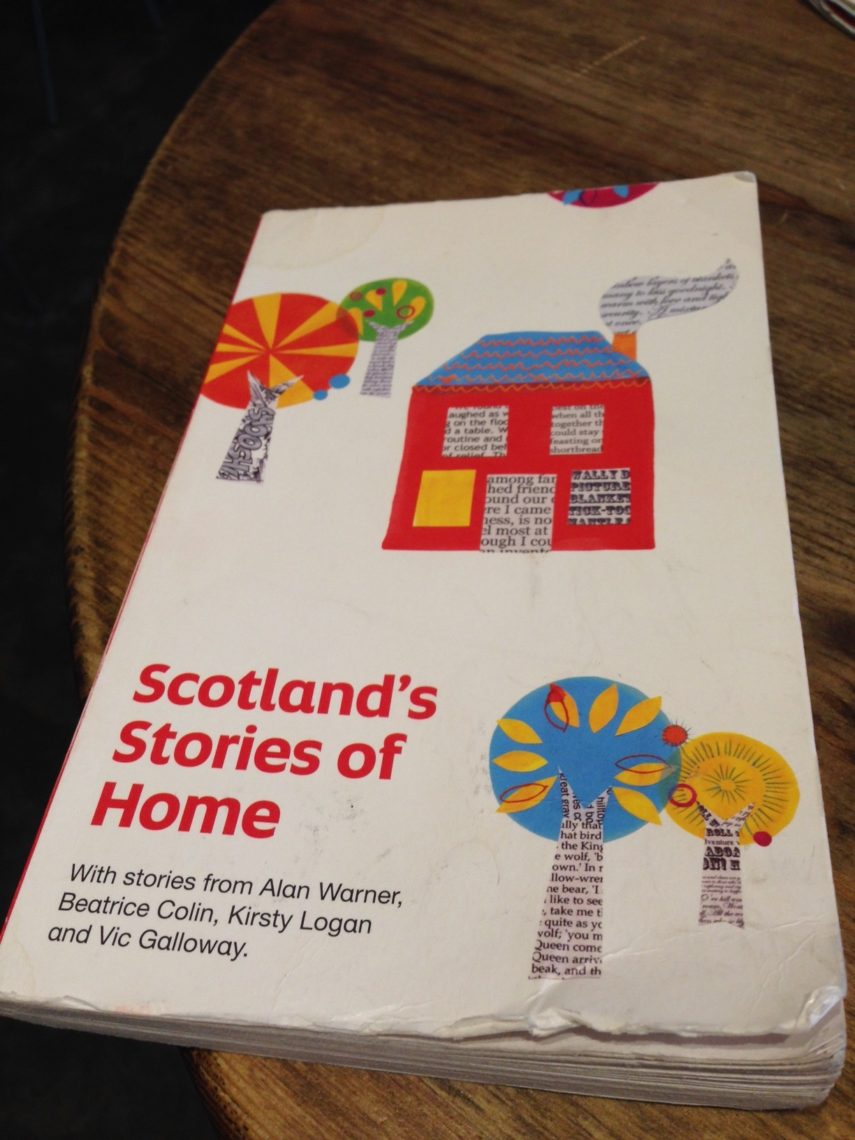 The Scottish Book Trust launched a collection of short stories in celebration of Scotland and its writers. The book was given away for free in various locations across the country. I picked up my copy from a tourist information point while on holiday with my family in St Andrews. You can also download it for free online. Featured in this slim volume are well-known names such as Alan Warner, Beatrice Colin, Kirsty Logan, and Vic Galloway, but also virtual unknowns such as the 86 year-old who "always wanted to write this [story from his childhood]".
The timing was right
Coincidentally, I read this book only a few days before leaving Scotland for good, and so I found that many of its stories affected me more deeply than they would have in another point in my life. As I said goodbye to this country that has been my home for nearly a year and a half, it was interesting to read about how much Scotland means to its more permanent residents. One story in particular struck a chord with me: Home by Beatrice Colin.
When I lived in America, where I worked as a journalist for The Scotsman newspaper for a couple of years, Glasgow, my hometown, became a spectre in the present.
She describes her longing for Scotland during her years abroad in much the same way I have felt about the southern United States while in Scotland. The little moments of frustration with American culture, the comparisons she makes to her own Scottish culture is so similar to how I have felt in Edinburgh (though the opposite) that I found myself a bit taken aback. When we live away from our hometown, she says (though more eloquently), we remember only their good aspects. We forget why we left until we return.
If we carry our home within us, however, if it is a touchstone of who we are, and who we've ever been, then my home is not one place but many. It's the glorious and the unforgettable, the brilliant and the benign, places so generous they made me feel like I belonged after a week, a year, a lifetime.
Reading this story right before my return to the US helped to justify the feeling that in leaving Scotland I'm lifting a heavy load from my back. Because living away from the culture in which you were raised is not easy. It is a constant fight with nostalgia, a soul-searching journey for normalcy in a place that is not "normal" to you. And, ultimately, it's one you can't "win". There will always be that spectre of unfulfilled expectations due to cultural differences. You cannot change where you come from, but you can absorb your new experiences — however foreign — to create your future self.
Other stories I enjoyed
While Beatrice Colin's piece struck me the most (I'll definitely be exploring her work further), there were other stories I particularly enjoyed as well:
Home Run by Shona Cook
The author uses the stops on a train ride from Edinburgh to London as points to compare the different relationships in her life with both people and places. Loved the form and the change between interior and exterior (supposedly) dialogue.
Home Experience by Lisa Anne Fiona MacDonald
MacDonald expertly describes various Scottish kitchens from the perspective of someone who has never had the privilege of having one. She weaves a detailed narrative that fills our senses and twists our hearts at the end.
All Addresses are Approximate by Thomas Clark
Clark revisits his hometown via Google maps. He notices the changes and the things that have stayed the same: an outdated photo, a complete change in weather from one screen to the next as the Google photographer ends his shift and another one begins. An interesting take on revisiting home in the digital age.