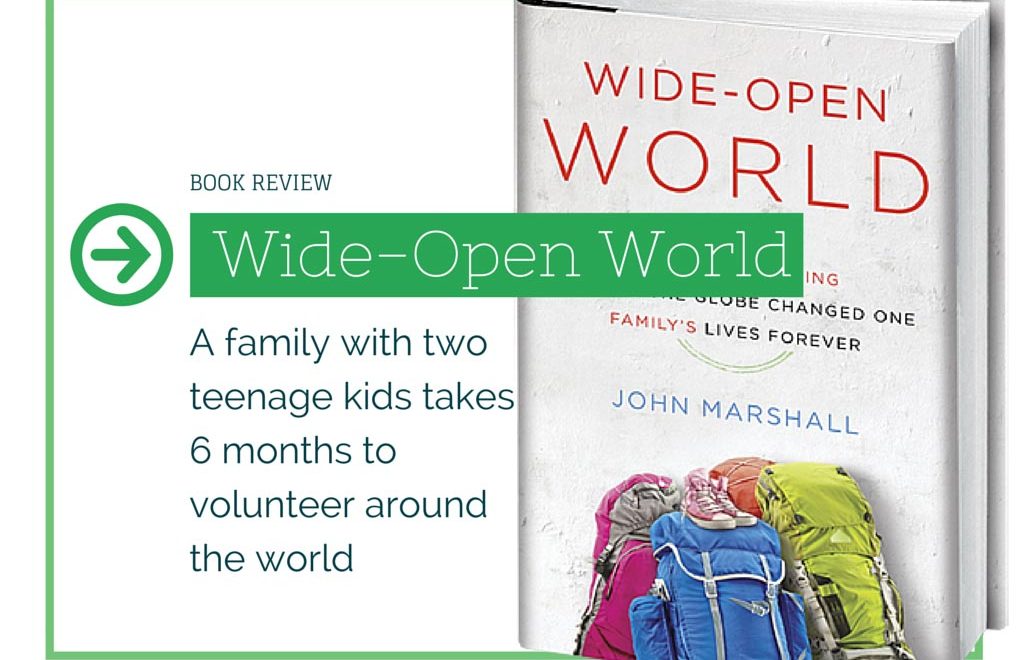 Netgalley
I came across John Marshall's memoir via Netgalley, the site that lets you leverage your social media clout to receive free advanced review copies (ARCs) of certain books from certain publishers (digital format). The deal is, of course, that you have to review the book in a timely manner. If you haven't gotten in on Netgalley yet, I encourage you to do so. These are all books from legitimate publishers that you'd find on the shelf in a bookstore (nothing against self-publishing, of course, it's just harder to weed out the bad from the good among the many self-published titles).
That having been said, John Marshall's book stood out to me for a couple of reasons:
It's a travelogue about a family with teenage kids that takes six months off to travel the world.
It's from a parent's perspective.
I recently read (and enjoyed) I Grew my Boobs in China by Savannah Grace, which was a similar story except told from the teenager's point of view. And so I was, of course, interested to hear an adult perspective on long term family travel.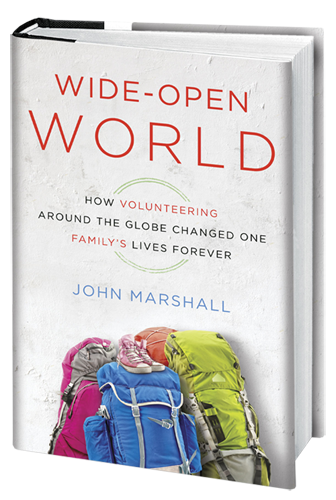 Voluntourism
Marshall begins the story with his and his wife Traca's return from a yoga retreat in the Bahamas. The two of them had dreamed of world travel since they were young, but before they knew it, they had kids and careers and the round-the-world trip just never happened. But after this rejuvenating short trip, they began to reconsider a longer one, particularly as a way to reconnect with their technology-absorbed children and also with each other — their relationship had been getting stale as they grew more complacent with life.
But, naturally, the Marshalls were concerned about cost. So John decided to investigate a growing trend in the travel industry: voluntourism. This is exactly what it sounds like. You volunteer in a place for a certain length of time, pay a small fee (yes, you pay to volunteer), and in exchange are granted room and board. The Marshalls experienced everything from teaching English in Thailand to working at a wildlife sanctuary in Costa Rica to WWOOFing in New Zealand.
A Feel-Good Story, but with a few flaws
There are many truly touching moments throughout this story. Despite the lack of in-depth delving into each of the characters (perhaps an attempt by the author not to intrude on his family's privacy), the reader can still sense change in the family and its individual members. Marshall focuses primarily on the change in his fourteen year-old daughter, Jackson. And it was heart-warming to see her attitude shift from the sun-bathing selfish teen at their first stop in Costa Rica to the hard-working young woman by their second to last stop at an orphanage in India. The connections John and each family member formed with different people (and animals) — especially kids — are deep and meaningful, and it's easy for the reader to see the long-lasting positive effects from these cross-cultural relationships.
Though at times there were passages that felt Marshall may have altered or glossed over in order to portray himself and his family in a certain light. This was especially true when it came to his relationship with Traca. To his credit, he openly admitted that her version of the story of their trip would likely be vastly different than his own. But whether he was aware of it or not, in his version Traca comes off as selfish, cold, aloof, and not very likeable. The hopeful love Marshall showed towards her throughout the book sometimes felt like he was implying Traca was to blame for their marital problems. It's a subtle kind of condescension, but it's definitely there.
Why you should read Wide Open World
Despite the fact that the writing often skims over character development (the kids and Traca don't actually have many lines), the book is worth reading, if only to glean information about voluntourism and how several different programs work (or don't work). It's also a good example for families who think "I could never to afford to travel around the world for six months," or, "I can't pull my kids out of school or leave my job," etc etc. It's a good example of If we can do it, you can do it.
And don't get me wrong, the book is both entertaining and moving. Marshall includes many poignant scenes without the "day one we did this, day two we did that" structure. This enabled him to connect different scenes to prove a point, but sometimes I didn't feel like I had a complete picture of their lives at each stop. At the end of their New Zealand WWOOFing adventure, he mentions that they have one more stop before moving on, but then completely skips it!
Bottom Line
I'm giving this book a "Recommended" 3.5/5 star rating for the story, exposure to new and interesting cultures, explanation of different volunteering options, and many heart-warming scenes throughout. Keeping in mind, of course, the lack of depth in the characters, and John's tendency to get preachy and overly sentimental.
To purchase a copy of this book, click the link below:
Wide-Open World: How Volunteering Around the Globe Changed One Family's Lives Forever