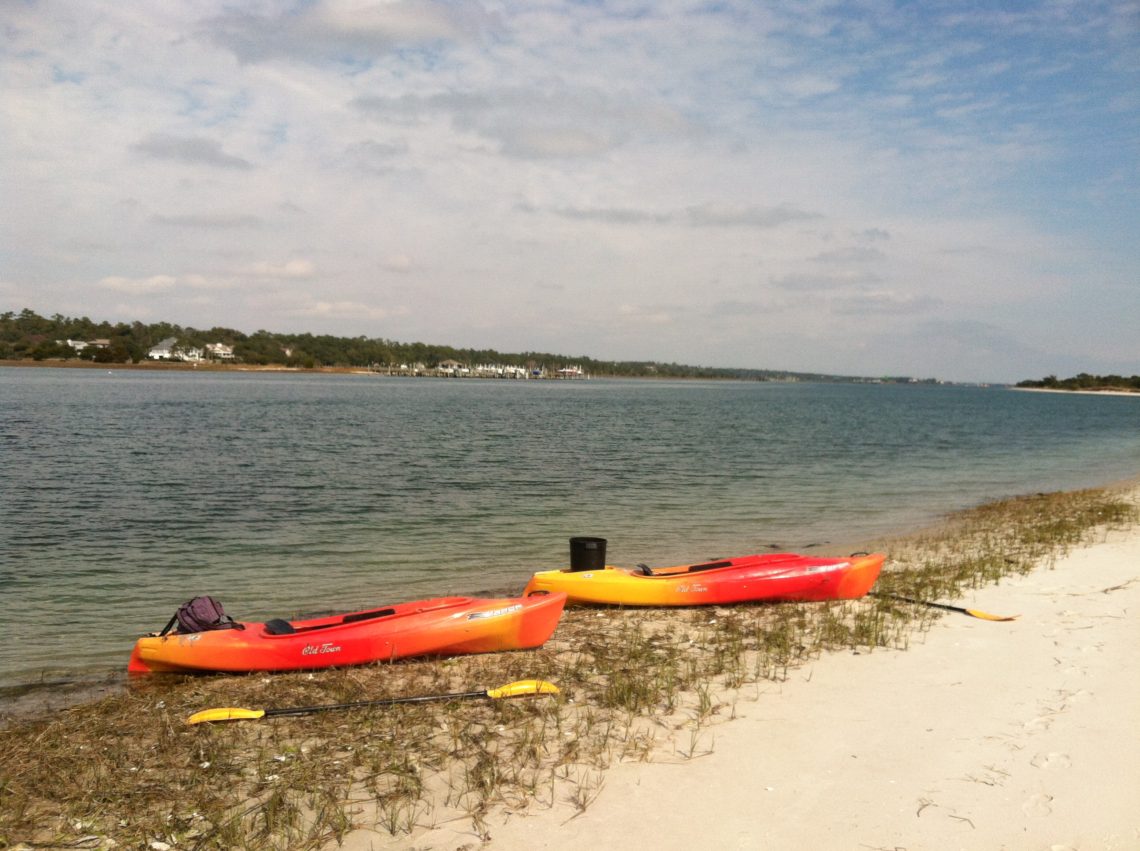 A few days ago, I did my first touristy thing since moving to Wilmington
I was feeling the need for some greenery and decided to seek out a Botanical Garden. The idea was planted (ha) in my mind a few days after I'd arrived when I drove out to Wrightsville Beach and passed a sign for Airlie Gardens. It wasn't until I'd spent two days confined to my apartment doing some copy editing for a friend of mine that I finally snapped. I needed green and I needed it now!
I'd finished my work around 2:30 – Airlie was closing at 5:00 – just enough time to soak up the 'wilderness' for an hour and then come back to get ready for my yoga class (I've started attending yoga classes at The Wilmington Yoga Center…$15 for 15 days!).
When I was living in Montreal, I was spoiled with a number of amazing parks and green spaces close by. The Botanical Gardens was one of my favorite places to go, and I went quite a few times. I've also grown up going to Brookgreen Gardens outside of Myrtle Beach, another incredible green space. I've seen Kew Gardens in England, Versailles in France, Elizabeth Park in Hartford, an entire city of parks in Ottawa, High Line Park in NYC, and plenty of other beautiful green spaces that I haven't mentioned here. Needless to say, I have pretty high standards when it comes to parks.
I paid my $5 admission, nodded as the man at the desk explained the self-guided tour route, then walked out the door and stared at my map. Cautiously, I followed what appeared to be the correct path, passing by a miniature version of a train station not quite small enough to be a doll's house and then emerging onto an open lawn. There was a crew of workmen busily erecting big white tents, wiping sweat from their foreheads as they hammered 3-foot long metal stakes into the groomed terrain. This was my first impression of Airlie: an open space perfect for weddings and special events. Not much different from anyone's backyard.
I passed through the 'Tranquility Garden', a butterfly house with a handful of monarchs and a huge tacky sculpture hanging from the center surrounded by 'donated' private spaces. One of these spaces even had a sign hanging above its cascading pebbles listing the name of the landscaping company that created the monstrosity. I felt more like I was on a tour of homes in a newly-developed neighborhood than in a botanical garden. Despite my aversion to the layout, I did absolutely adore one of these 'private spaces'. Check it out below.
After the Tranquility Garden, I followed the path to the Pergola Garden. This was more like what I had envisioned – decades-old growth over a pebbled pathway that led to a small pond in one direction and an unknown grave in the other.
I wandered past these landmarks and into the Camellia Garden with its 150-foot (barren) rose trellis. Maybe it'll have blooms in the summertime.
I continued to the Spring Garden, where tulips bloomed around a fountain, and then on to the Mount Lebanon Chapel, which was built in 1835 and still in use today. I meandered through the cemetery behind the chapel, marveling at the new graves built around the centuries-old decrepit ones. I've always felt most at peace in cemeteries, so I stayed here for a little while, trying to decipher the names and dates on the old grave markers, imagining how each spent his or her life. One grave, covered in seashells and beach sand, I imagined was that of a light-house keeper, in love with the sea and all its creatures.
Finally, I moved on to some beautiful marsh-side views and circled round to the Garden Services Center where I started.
Though off to a rough start, my trek through Airlie Gardens was not disappointing. Definitely worth the $5 and 10 minute drive spent to get in. Not a must-see on your first trip to Wilmington but definitely a pleasant additional activity for any nature lover.
My next stop in this town will hopefully be the Arboretum, a free-to-the-public 7-acre "horticulture laboratory".