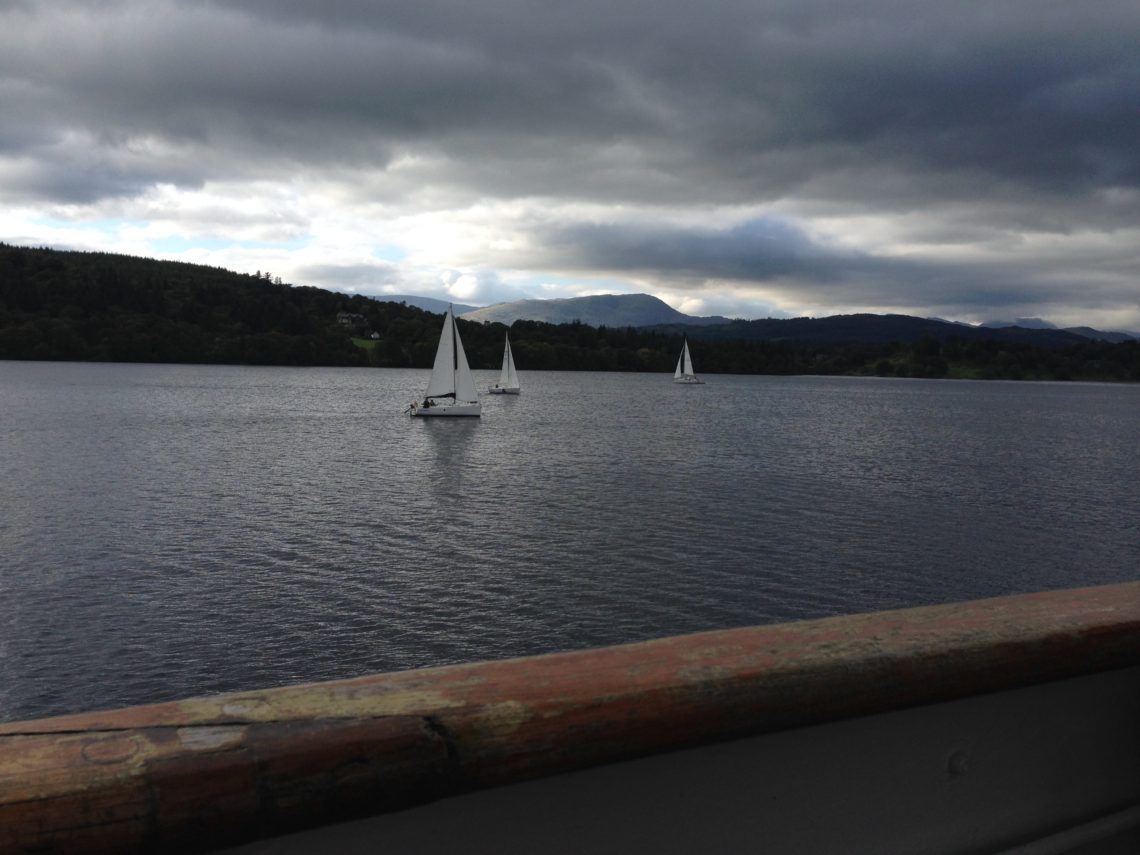 Back in October I Visited the lake district
Windermere, to be exact. At 7:45 AM on a Saturday and with a slight hangover, I trudged up the stairs of the bus that was packed with foreign exchange students and travelers leaving their hostels for a day. I picked a seat as close to the front as I could and fastened my seatbelt (proof that I'm becoming an adult?). The ride there took four hours.
When we arrived
We piled off the vehicle and into the parking lot, happy to escape the confinement of the bus on which we'd experienced more than our fair share of hairpin turns and curves that weaved a little too closely to cliffs' edges. I forced down the rest of my ham sandwich from that morning to keep the nausea at bay and headed over to the kiosk where we were told we could purchase tickets for the ferry on the lake.
I paid my £9.00 for a 90-minute tour on the Yellow Cruise, then headed off to explore the town while I waited for the boat to arrive.
I grabbed a quick bite to eat at a cute cafe called Café Latte and worked on some writing. The soup and bread was incredible, and the serving staff very pleasant. The place was packed with locals and tourists alike.
When it was time to embark
I found a nice seat on the upper deck of the boat and indulged in another pot of tea (ubiquitous in this country).
Though beautiful, the tour was a bit monotonous, and I grew a little bored of the scenery. With more time, I'd have rented a row boat or a kayak and gone out on the lake myself. As is, though, sitting on the ferry drinking tea and watching sailboats go by was not an altogether bad way to spend an afternoon. We reached Bowness and the ship's majority disembarked.
One-day Vacation
I relocated to a quiet seat with a table and a window on the lower level. A middle-aged couple sat in the booth in front of me – a woman with dyed blond hair, garish blue eye shadow and fuchsia lips. Her husband's gray head occasionally blocked her face from view. She seemed tired and frustrated. Maybe she'd been there too long. It'd be hard to find things to do in this town for more than a day.
Surprise attractions
When we docked in Lakeside where we'd started, there were still a few hours before we had to get back on the claustrophobic death-trap the Brits call a coach, so I decided to take a walk around town. As I strolled, I encountered a sign with a large brightly colored arrow pointing down an alley. "BEATRIX POTTER ATTRACTION" it proclaimed. I followed it.
[youtube=http://youtu.be/pixCye8_JtM]
Cultural Experience
As I arrived, I was greeted by a very unexpected sight: directly in front of the ticket desk to the Beatrix Potter Attraction, several men and one woman were performing Zulu song and dance in costume. I stood and watched for a little while, clapping my hands along with the beat. I watched until they began demonstrating dance moves piece-by-piece and encouraging the audience to repeat them. Then I suddenly felt self-conscious and slunk off to the exhibit.
The exhibit itself was an elaborate walk-through of many of Beatrix Potter's books. There was a short informative film at the beginning to give some background information to the ignorant tourist (me), and after strolling leisurely (or at a brisk pace due to time constraints) through the various houses, ponds, and garden plots of Potter's characters, there was a large room dedicated to the timeline of the author's life.
My favorite feature by far was the massive screen stretched across one wall providing panoramic views from many of the real-life Lake District settings in Potter's books. If I'd had more time, I'd have spent the rest of the day virtually traveling to castles and lake beds, and getting lost in the woods.
Of course, the icing on the cake was finding a Peter Rabbit Birthday card in the gift shop with my name spelled correctly in block letters across the front. I stocked up on gifts for my young niece and nephew and headed back to the coach for the four hour journey back to Edinburgh, satisfied I'd decided to explore the small lake town of Windermere.