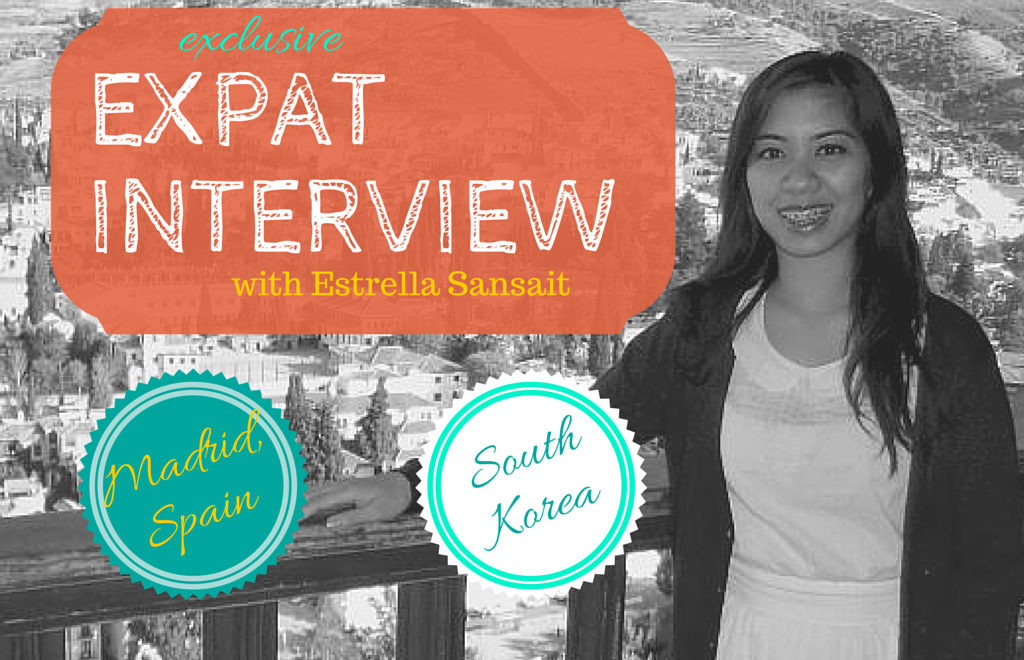 Our latest interview in the series is Estrella Sansait of Estrella Explores. Our past interviews include Rachel from Arts in Munich, Allane Milliane of Packing my Suitcase, Clare Laming of Monarch Butterfly Voyager, tattoo artist and world-traveler Amber Harris, Adrian Ann of Adrian's Travel Tales, and Jenn Turnbull-Houde of Two Weeks in Costa Rica. In the series, we ask a handful of questions to female travelers and expats who can offer unique perspectives on the transient or foreign lifestyle.
If you or someone you know falls into this category, please don't hesitate to drop us a line. The interview questions will be tailored to your specific story, as you'll see below.
About Estrella: Estrella is a Canadian girl who taught English for a year in South Korea and now lives in Madrid, Spain, where she moved in 2012. From her blog:
In my free time I attempt to learn Spanish (sometimes), drink tinto de veranos (frequently), and eat tapas (any chance I get).

I had only planned to stay for one year in Madrid and then move on, but someone changed my mind. About month after I arrived, I met and fell in love with an amazing Spaniard. I currently don't know when (if?) I will be leaving this city I have come to call home.
Follow her on her blog, Instagram, and Twitter.
---
SGT: You taught English for a year in South Korea before doing a similar thing in Madrid, Spain. How did you choose each destination? How did the programs compare?
ES: While in university, I watched a South Korean movie that introduced me to the world of K-Pop (Korean pop culture). Though I wasn't a big fan of the K-Pop music scene, I really liked their dramas and movies. I found out that there was a program to teach English in South Korea which sounded like a great experience so I decided to apply in my last year at university. I was able to secure a great position with a recruiter, and hopped on a one way flight to Incheon three months after I graduated.
I left South Korea after a year because I thought I should go back to my "real life" in Toronto. It didn't take long for me to realize that I still wanted to travel, and wasn't ready to settle down anytime soon. I had always wanted to live in Europe, so after lots of Google-ing I found out about the Spanish Ministry of Education program. Spain wasn't my first choice, but I was was set on working for an official public school system, and it was the only one I qualified for without having a teaching degree.
My role in the classroom was the same in both programs: an English teaching assistant that co-taught with a local teacher. Everything else between the two programs were fairly different.
In South Korea I had a contract for a full year, working 40 hours a week, 22 of which were spent in-class teaching. I got 18 vacations days, plus any national holidays. I was paid about $2000/month, lived rent free in my own apartment, my flights to and from Canada were paid for and I received a nice bonus at the end of my year. I also received public health care coverage.
In Spain, my contracts were for 9 months (October – June). I didn't receive any official vacation days, but I only had to work for 16 hours a week which meant 3 day weekends every week. I also got all public holidays off. In return, I received private healthcare insurance and 1000€/month tax free.
SGT: Do you speak Korean or Spanish? How difficult is it (would it be) to get around each country with a limited knowledge of the language?
ES: I don't speak much hangul (the name of the Korean language) anymore, but while I was there I learned enough to get around without too much trouble. It helped that I lived in a very big city where locals were used to occasionally seeing and interacting with foreigners. Since they were used to dealing with non-native hangul speakers, they could understand what I was saying even if I didn't pronounce something exactly right.
Currently, I am trying to improve my Spanish speaking skills. I didn't take any formal Spanish language classes prior to moving to Spain, so I had a very basic level when I arrived. Since then I have taken a few classes, which has helped me immensely.
I live in Madrid, the biggest city in Spain, but I'm surprised at the level of English here. Being a European capital city, I thought it would be easier to get around without speaking Spanish, but sometimes it can get very difficult. In the tourist areas of all major Spanish cities, you will find waiters, sales staff, pharmacists, etc., that speak English very well, so if you stick to those areas it's fine. However, if you go to areas that aren't regularly visited by foreigners, you will have to try your best to speak in Spanish.
SGT: Have you found it easy to make local friends? Do you have much contact with the other people working in your program?
ES: Spanish people are very friendly, but I have often found that it's hard to become truly friends with them. I mean, they will go out partying with you and have fun, but they usually reserve serious topics to their own groups of friends which they've had for years. Usually to become part of the "inner circle" of Spanish friends you must be added by someone already part of the group. The only Spanish friends I have are through my Spanish boyfriend.
I have a lot of contact with other teaching assistants in my program. Usually you aren't the only teaching assistant in your school, so you interact with other assistants daily. At the beginning of every school year there is a mandatory orientation, which is a great place to make friends. Lastly, there are numerous Facebook groups for teaching assistants in Spain. It's a great place to ask questions, get recommendations and to "meet" people if you're new.
SGT: You've been living in Madrid since 2012 now. Have you re-upped your contract with the original organization you came over with or have you found other avenues to obtain the visa you need to stay?
ES: I originally came to Madrid to teach for the Spanish Ministry of Education's program. I was placed in a wonderful school, and after my first year decided to renew and remain there. With this program, there is a 2 year limit on staying in the same region. I could have renewed for a second time with the Spanish Ministry program, but I would not have been placed in Madrid.
I really wanted to stay in Madrid for a third year, so I applied to other assistant teaching programs in the city. I was accepted into the BEDA program, and that is how I am working here now. If I want to stay in Madrid after this contract is up in June, I can renew with BEDA or change programs again.
SGT: Is it expensive to live in Madrid? What kind of benefits do you receive from your job?
ES: I don't think it's very expensive, given that it's a western European city. Everyone teaching in Madrid with the Spanish Ministry of Education program makes 1000€/month. This is enough to break even after paying for rent, utilities, a monthly transportation pass and going out a couple of times a week for inexpensive food or drinks. If you want to travel, pay your bills at home or save money, you'd have to pick up tutoring jobs on the side to make more.
SGT: How often do you get to see your family? Is it difficult being so far from them?
ES: I usually see my family once a year. In 2012 and 2013 I went home for two weeks during Christmas. Last summer though, I was able to spend almost 2 months at home while I waited for my new visa (since I switched programs). I didn't go home this past Christmas, so I'm hoping I'll be able to visit this summer.
I come from a fairly close family, so it is hard to be so far from them, especially during birthdays or important events in my sisters' lives. We try to stay in touch with Skype and through social media, but sometimes I get really homesick.
SGT: If you could offer one piece of advice to someone considering teaching English abroad, what would it be?
ES: The best piece of advice I have is to prepare yourself as best as you can for culture shock. It's going to happen no matter where you go. Read up about the country you're thinking of living in, and try to find blogs of expats doing the program you're interested in. They will give you a first hand look at what your life will be like and can help you mentally prepare for your experience.
Official Page for the Spanish Ministry Program
---
Are you a female expat/former expat or permanent traveler who would like to be interviewed for Savvy Girl Travel? Get in touch.