"CROSSING THE RIVER" was the first film I ever Costume Designed.
And it is finally hitting the festival circuit! The short film was recently accepted into the WAMM Fest (Women and Minorities in the Media). It's crazy to me to think that I have been in costuming for over a year now! I am most excited to see the string of shorts and other film projects I've worked on to finally hit the big screen (or the festival screens, for that matter)!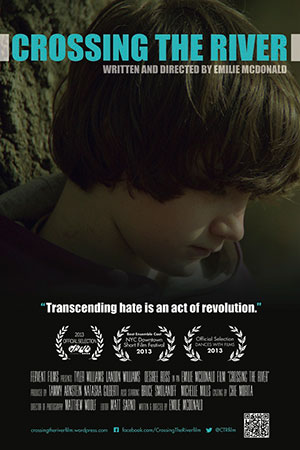 The idea for the film stemmed from an article Writer/Director Emilie MacDonald had read about a cross burning. From the website:
CROSSING THE RIVER is a narrative short film about a modern-day hate crime. White teenage brothers Grant and Shawn, estranged from their mother, find the connection they are seeking with a racist older man. Michaela, an innocent 13 year old from a mixed-race family, is new in town. After tensions in the boys' lives escalate, a cross is burned on Michaela's lawn. The film explores the points of view of both the victim and perpetrators, and seeks to reveal how someone can be influenced to do something morally unspeakable.
I am a little apprehensive to see my designs on screen, but also exhilarated. I had so much fun working on this film; the process, though hectic at times, was relaxed, and the cast and crew meshed well together. The story played out beautifully on screen, and I am sure we will all be proud of the result.
Check out the trailer for CROSSING THE RIVER below:
CROSSING THE RIVER trailer from Emilie McDonald on Vimeo.
You can also follow the film's progress via Twitter.